Publication:
Salt hydration and drop drying of two model calcium salts: Implications for foliar nutrient absorption and deposition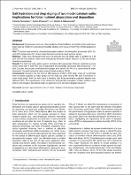 Advisors (or tutors)
Editors
Abstract
Background: Hygroscopic salts are often applied as foliar fertilizers and calcium (Ca) salts have been used as model for cuticular permeability studies, with focus on their Point of Deliquescence (POD). Aim: This study was aimed at characterizing water sorption and desorption processes at 20, 30, and 40°C temperature (T), of two model Ca salts commonly used as foliar sprays. Methods: Trials were developed with pure Ca‐chloride and Ca‐nitrate salts in addition to 2 M and 150 mM Ca solutions. Salts were analyzed by Dynamic Vapour Sorption (DVS) and climate chamber experiments. Results: For both Ca salts, water sorption and desorption processes followed hysteresis curves which varied with T. Salt POD was T‐dependent and generally decreased with increasing T. For both Ca salts, the process of efflorescence began at or below 10% RH, at a certain level of water desorption Ca‐salts becoming highly concentrated solutions (HCS). Conclusions: Owing to the low point of efflorescence (POE) of both salts, drops of Ca‐chloride and Ca‐nitrate supplied as foliar sprays will not fully dry under normal RH and T conditions in most world areas. Both Ca salts have a similarly high foliar penetration potential despite their different POD. The significance of the results for the potential absorption of foliar fertilizers and salts by the foliage is discussed under an agronomic and eco‐physiological viewpoint.
Collections