Publication:
La perspectiva del recuerdo: Proust desde Ortega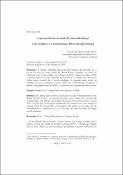 Authors
Advisors (or tutors)
Editors
Abstract
El artículo pretende dar cuenta del carácter del recuerdo en la novela En busca del tiempo perdido de Marcel Proust, teniendo en cuenta las reflexiones que Ortega escribe sobre Proust en 1923 y sobre la novela en 1925. La primera parte del escrito abordará las reflexiones de Ortega sobre la obra de Proust como ejemplo de la novela moderna. La segunda parte tratará de clarificar por qué el recuerdo se gesta como una estructura para recuperar el pasado y qué papel juegan el olvido y la memoria en el mecanismo del recordar.
The article seeks to show the characteriology of remembrance in the Marcel Proust novel À la recherche du temps perdu, taking into account the considerations that Ortega wrote about Proust in 1923 and about the novel in 1925. The first part of the paper explain why the Proust novel is an example of modern novel for Ortega. The second part of the article try to clarify why the remembrance is a structure to recover the past and what role play the forget and the memory.
Collections