Publication:
Edad de cristalización magmática a partir de circones ígneos con un rango elevado de edades U-Pb concordantes: Dos ejemplos de la Sierra de Fiambalá (Sierras Pampeanas, Argentina)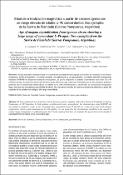 Advisors (or tutors)
Editors
Publisher
Sociedad Geológica de España.
Abstract
Se han analizado elementos traza en circón de dos muestras de rocas ígneas de la Sierra de Fiambalá, en las Sierras Pampeanas, al NO de Argentina. En ambas muestras, una gabronorita y una granodiorita, las edades obtenidas previamente mediante SHRIMP no arrojaron resultados concluyentes, ya que la dispersión de edades concordantes varía entre 20 y 80 millones de años. Usando la composición de tierras raras del circón, que es bastante homogénea en las dos muestras, podemos justificar que la variabilidad observada en las edades no se debe probablemente a un período de cristalización magmática largo, sino que está causada por una pérdida de plomo. De esa manera, la edad de esas rocas debería de obtenerse a partir del conjunto de las edades más antiguas del rango concordante.
We have analyzed trace elements in zircon from two igneous samples collected in Sierra de Fiambalá, at Sierras Pampeanas, in NW Argentina. In both samples, a gabbronorite and a granodiorite, the obtained ages using SHRIMP did not yielded a conclusive result, as the concordant ages smeared between 20 and 80 m.y. Using zircon rare earth element composition, which is quite homogeneous in both samples, we can argue that the observed age variability is not caused by a large range of magmatic crystallization ages, but it is the result of lead loss. Accordingly, the age of these rocks should be calculated from the oldest set of concordant ages.
Collections