Publication:
Breastfeeding during COVID-19: A Narrative Review of the Psychological Impact on Mothers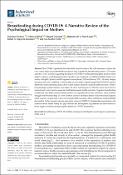 Advisors (or tutors)
Editors
Abstract
The COVID-19 pandemic has altered the normal course of life, with measures to reduce the virus spread impacting motherhood expectations and, in particular, breastfeeding practices. This study aimed to review evidence regarding the impact of COVID-19 on breastfeeding plans and how these relate to women's psychological outcomes. Searches were conducted on PubMed and Web of Science for studies in English, Spanish, and Portuguese between January 2020 and January 2021. All study designs and pre-prints were considered. Twelve studies were included. Reports suggest that COVID-19 impacts differently on breastfeeding plans, which in turn leads to distinctive mental health outcomes. Positive breastfeeding experiences have been observed when mothers perceive that they have more time for motherhood, which may be associated with better mental health outcomes. Negative breastfeeding experiences have been observed when mothers are separated from their newborns, when mothers struggle with breastfeeding, or when mothers perceive decreased family and professional support, which seems to be associated with worse mental health outcomes. These preliminary results highlight the need for further research into the association between COVID-19, breastfeeding expectations, and maternal mental health. Filling this gap will foster the development of guidelines and interventions to better support mothers experiencing the obstacles of COVID-19 pandemic.
Collections