Publication:
Sikhs en Barcelona. Características, idiosincrasia y causalidades de la creación y establecimiento de una comunidad en el marco global de las migraciones transnacionales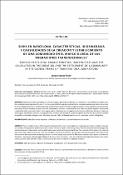 Authors
Advisors (or tutors)
Editors
Publisher
Consejo Superior de Investigaciones Científicas
Abstract
Si bien existen sikhs que habitan en diferentes lugares de España, en Barcelona se encuentra la comunidad más antigua, estable y probablemente organizada del país. El hecho de que los sikhs hayan inmigrado a España responde a razones que tienen que ver tanto con su bagaje histórico y su idiosincrasia como con fenómenos tan amplios como la globalización y los flujos globales transnacionales. Este trabajo trata de visibilizar la comunidad sikh de Barcelona -así como la existencia de otros sikhs en el Estado español- describiendo y explicando cómo y por qué vinieron hasta aquí y cuál es la forma en que se organizan y funcionan a diferencia de como lo hacen en otros lugares. Para llevar a cabo esta investigación se ha llevado a cabo trabajo de campo etnográfico durante más de 18 meses mediante etnografía multisituada en lugares como Barcelona, Londres, Delhi y el Panyab además de una importante revisión bibliográfica.
There are Sikhs living in different parts of Spain, but the oldest, most stable and organized community is settled in Barcelona. The Sikhs immigrated to Spain because of a number of reasons such as their idiosyncrasy; their historical and cultural background; and also because of phenomena such as globalization and global and transnational fluxes. The main aim of this paper is to make the Sikh community of Barcelona visible - and also the Sikhs in other parts of Spain. I am going to describe and explain why and how the Sikhs arrive in Barcelona and how they organize and live here, taking into account the differences between other places of settlement. Therefore, I have done anthropological fieldwork for more than 18 months, using the multi-sited ethnography in places such as Barcelona, London, Delhi and the Punjab. I have also done an extensive review of published literature.
Collections