Publication:
Candidate Genes for Eyelid Myoclonia with Absences, Review of the Literature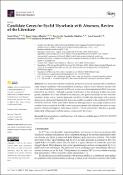 Advisors (or tutors)
Editors
Abstract
Eyelid myoclonia with absences (EMA), also known as Jeavons syndrome (JS) is a childhood onset epileptic syndrome with manifestations involving a clinical triad of absence seizures with eyelid myoclonia (EM), photosensitivity (PS), and seizures or electroencephalogram (EEG) paroxysms induced by eye closure. Although a genetic contribution to this syndrome is likely and some genetic alterations have been defined in several cases, the genes responsible for have not been identified. In this review, patients diagnosed with EMA (or EMA-like phenotype) with a genetic diagnosis are summarized. Based on this, four genes could be associated to this syndrome (SYNGAP1, KIA02022/NEXMIF, RORB, and CHD2). Moreover, although there is not enough evidence yet to consider them as candidate for EMA, three more genes present also different alterations in some patients with clinical diagnosis of the disease (SLC2A1, NAA10, and KCNB1). Therefore, a possible relationship of these genes with the disease is discussed in this review.
Collections