Publication:
Tlr2 Gene Deletion Delays Retinal Degeneration in Two Genetically Distinct Mouse Models of Retinitis Pigmentosa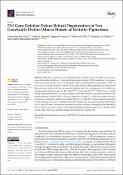 Advisors (or tutors)
Editors
Abstract
Although considered a rare retinal dystrophy, retinitis pigmentosa (RP) is the primary cause of hereditary blindness. Given its diverse genetic etiology (>3000 mutations in >60 genes), there is an urgent need for novel treatments that target common features of the disease. TLR2 is a key activator of innate immune response. To examine its role in RP progression we characterized the expression profile of Tlr2 and its adaptor molecules and the consequences of Tlr2 deletion in two genetically distinct models of RP: Pde6brd10/rd10 (rd10) and RhoP23H/+ (P23H/+) mice. In both models, expression levels of Tlr2 and its adaptor molecules increased in parallel with those of the proinflammatory cytokine Il1b. In rd10 mice, deletion of a single Tlr2 allele had no effect on visual function, as evaluated by electroretinography. However, in both RP models, complete elimination of Tlr2 attenuated the loss of visual function and mitigated the loss of photoreceptor cell numbers. In Tlr2 null rd10 mice, we observed decreases in the total number of microglial cells, assessed by flow cytometry, and in the number of microglia infiltrating the photoreceptor layers. Together, these results point to TLR2 as a mutation-independent therapeutic target for RP.
Collections