Publication:
América Latina en la prensa escrita española: un análisis geopolítico de las Cumbres Iberoamericanas celebradas en España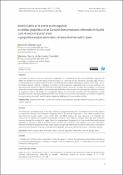 Advisors (or tutors)
Editors
Publisher
Universidad Rey Juan Carlos
Abstract
Los medios de comunicación son una fuente privilegiada en el estudio de los discursos geopolíticos populares. El objeto de investigación de este trabajo reside en analizar los contenidos de tres periódicos españoles (ABC, El País y La Vanguardia) en su cobertura mediática de las Cumbres Iberoamericanas celebradas en España (1992, 2005 y 2012). El principal objetivo consiste en destacar la construcción de imágenes y representaciones narrativas relativas a las relaciones entre España y el conjunto de los países latinoamericanos a través del escrutinio de sus páginas. Los enfoques críticos de la disciplina geopolítica y las metodologías dedicadas al enmarcado en la comunicación política constituyen la arquitectura teórica del trabajo. La investigación desvela las conexiones existentes entre las diferentes escalas geográficas (estatal, regional y global) operativas en la dinámica del escenario internacional y, en paralelo, el papel de los medios de comunicación para fortalecer o desplazar debates políticos en la esfera pública.
The media are a privileged source in the study of popular geopolitical discourses. The research object of this paper is to analyze the contents of three Spanish newspapers (ABC, El País and La Vanguardia) in their media coverage of the Ibero-American Summits held in Spain (1992, 2005 and 2012). Indeed, the main objective is to highlight the construction of images and narrative representations related to the relations between Spain and Latin American countries through the scrutiny of its pages. The critical approaches of the geopolitical discipline and the methodologies dedicated to framing in political communication constitute the framework. The research proves the interactions between the different geographical scales (state, regional and global) which intefere in the dynamics of the international scene and, simultaneously, the role of the media to strengthen or displace political discussions in the public sphere.
Collections