Publication:
Targeting Autophagy to Counteract Obesity-Associated Oxidative Stress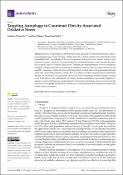 Advisors (or tutors)
Editors
Abstract
Reactive oxygen species (ROS) operate as key regulators of cellular homeostasis within a physiological range of concentrations, yet they turn into cytotoxic entities when their levels exceed a threshold limit. Accordingly, ROS are an important etiological cue for obesity, which in turn represents a major risk factor for multiple diseases, including diabetes, cardiovascular disorders, non-alcoholic fatty liver disease, and cancer. Therefore, the implementation of novel therapeutic strategies to improve the obese phenotype by targeting oxidative stress is of great interest for the scientific community. To this end, it is of high importance to shed light on the mechanisms through which cells curtail ROS production or limit their toxic effects, in order to harness them in anti-obesity therapy. In this review, we specifically discuss the role of autophagy in redox biology, focusing on its implication in the pathogenesis of obesity. Because autophagy is specifically triggered in response to redox imbalance as a quintessential cytoprotective mechanism, maneuvers based on the activation of autophagy hold promises of efficacy for the prevention and treatment of obesity and obesity-related morbidities.
Collections