Publication:
Movilización y organización del trabajo en el Primer Franquismo: los talleres centrales del Parque Móvil del Estado, 1940-1960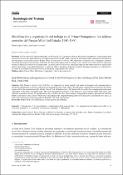 Advisors (or tutors)
Editors
Publisher
Universidad Complutense de Madrid
Abstract
Tras la victoria del ejército sublevado en la Guerra Civil, es perentorio dotarse de medios de transporte y comunicación para reconstruir la estructura administrativa y la organización territorial del Estado. Una de las primeras grandes operaciones constructivas del franquismo será la edificación del Parque Móvil de Ministerios Civiles en 1940, destinado a la recolección, el desguace y posterior remontaje del parque automovilístico del Estado. El sistema de organización del trabajo es una mezcla entre macro-taller de reparación artesana y fábrica de automóviles autosuficiente. La producción de la fuerza de trabajo que requiere este sistema mixto de organización genera una burbuja-comunidad industrial en el centro de Madrid que abarca la gestión integrada del espacio productivo y reproductivo, así como la coexistencia de modos diversos de disciplina y organización del trabajo.
After Franco's victory in the Civil War, it is imperative to equip oneself with means of transport and communication to rebuild the administrative structure and territorial organization of the State. One of the first major construction operations of the Franco regime will be the construction of the Mobile Park of Civil Ministries since 1940, destined for the collection, scrapping and subsequent reassembly of the State automobile park. The work organization system is a mix between a macro-artisan repair shop and a selfsufficient automobile factory. The production of the workforce that this mixed system of organization requires generates an industrial bubble-community in the center of Madrid that encompasses the integrated management of the productive and reproductive space, as well as the coexistence of diverse modes of discipline and work organization.
Description
Mobile Park of Civil Ministries; Franco period; Car workshop
Collections