Publication:
Preventive behaviours during the pandemic: The role of collective rituals, emotional synchrony, social norms and moral obligation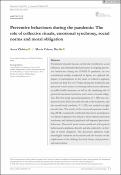 Advisors (or tutors)
Editors
Abstract
The present research focuses on the role of collective, social influence and intraindividual processes in shaping preventive behaviours during the COVID-19 pandemic. In two correlational studies conducted in Spain, we explored the impact of participation in the ritual of collective applause (carried out daily for over 70 days during the lockdown) and perceived social norms in fostering behavioural adherence to public health measures, as well as the mediating role of perceived emotional synchrony and a sense of moral obligation. The first study (general population, N = 528) was conducted in June 2020, just after the end of the lockdown, and the second study (students, N = 292) was carried out eight months later. The results of the structural equations modelling (SEM) consistently confirmed that active participation in collective applause was linked to more intense emotional synchrony and indirectly predicted self-reported preventive behaviour. Perceived social norms predicted self-reported behavioural compliance directly and also indirectly, via feelings of moral obligation. The discussion addresses some meaningful variations in the results and also focuses on the implications of the findings for both theory and psychosocial intervention.
Description
CRUE-CSIC (Acuerdos Transformativos 2022)
Collections