Publication:
Diagnostic imaging appearance of canine gastric leiomyomas: Four cases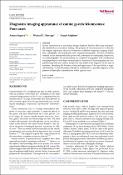 Advisors (or tutors)
Editors
Publisher
BVA: British Veterinary Association
Abstract
Gastric leiomyoma is an uncommon benign neoplasm found in older dogs and generally identified as an incidental finding. The purpose of this manuscript is to describe the imaging appearance of gastric leiomyoma in different diagnostic imaging modalities (radiography, ultrasonography and computed tomography). All three modalities revealed a mass arising within the gastric wall, radiopaque on radiography, hypoechoic on ultrasonography and isoattenuating on computed tomography, with intralesional radiopaque/hyperechoic/hyperattenuating foci, respectively. Ultrasonography and computed tomography are sensitive and proved very useful in the diagnosis of this type of neoplasia, identifying the location, extent and appearance of the mass before a surgical treatment. Gastric leiomyoma should be considered as a possible diagnosis in the presence of dystrophic mineralisation within a gastric mass.
Description
CRUE-CSIC (Acuerdos Transformativos 2022)
Collections