Publication:
The Impact of Surgical Practice on Oncological Outcomes in Robot-Assisted Radical Hysterectomy for Early-Stage Cervical Cancer, Spanish National Registry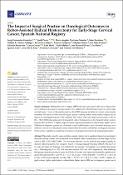 Advisors (or tutors)
Editors
Abstract
Minimal invasive surgery (MIS) has been associated with lower disease-free survival than open surgery among women who underwent radical hysterectomy for early-stage cervical cancer. However, the mechanisms by which MIS increases mortality in cervical cancer remain uncertain. We aimed to determine if surgical practice among centers using robotic surgery has an impact on oncological outcomes. We evaluated 215 women with early-stage cervical cancer (≤IB1 or IIA1, FIGO 2009) who underwent robot-assisted radical hysterectomy in five Spanish tertiary centers between 2009 and 2018. A higher surgical volume, higher participation in clinical trials, higher rate of MRI use for diagnosis, greater use of sentinel lymph node biopsies, and a favorable learning curve with low rates of early recurrences were observed for the centers with better oncological outcomes. These factors might have a significant impact on oncological outcomes in all surgical approaches.
Collections