Publication:
Should Advanced Friedreich's Ataxia Be a Contraindication for Heart Transplantation? A Case Report of a Successful Procedure in a 58-Year-Old Patient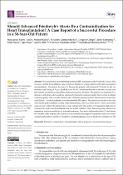 Advisors (or tutors)
Editors
Abstract
The information on heart transplantation (HT) in patients with Friedreich's Ataxia (FA) is scarce, and the few published case reports are limited to young patients with mild neurological manifestations. We present the case of a 58-year-old patient with advanced FA (Scale for the Assessment and Rating of Ataxia [SARA] score 30/40), wheelchair-bound for the last 16 years and had urinary incontinence, dysarthria, and neurosensorial deafness. The patient was admitted for a refractory arrhythmic storm and had previous hypertrophic cardiomyopathy that evolved to dilated cardiomyopathy with severely reduced left ventricular ejection fraction and recurrent ventricular arrhythmias. A multidisciplinary team discussed the HT option. The patient was aware of the risks and benefits and considered worthy of the intervention, so he was listed for HT. After a successful surgical intervention, the patient had a long postoperative stay in ICU. He required a high dose of vasopressors, underwent hemofiltration for one month, suffered critical illness myopathy, had several respiratory infections and delayed tracheal extubation. Two and a half months after HT and almost five months at the hospital, the patient was successfully discharged. FA patients with severe heart conditions should be carefully evaluated by a multidisciplinary team to decide the candidacy for HT.
Collections