Publication:
Female Sex Is a Risk Factor Associated with Long-Term Post-COVID Related-Symptoms but Not with COVID-19 Symptoms: The LONG-COVID-EXP-CM Multicenter Study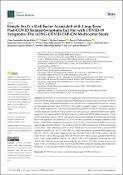 Advisors (or tutors)
Editors
Abstract
This multicenter cohort study investigated the differences between coronavirus disease 2019 (COVID-19) related symptoms and post-COVID symptoms between male and female COVID-19 survivors. Clinical and hospitalization data were collected from hospital medical records in a sample of individuals recovered from COVID-19 at five public hospitals in Spain. A predefined list of post-COVID symptoms was systematically assessed, but patients were free to report any symptom. Anxiety/depressive levels and sleep quality were also assessed. Adjusted multivariate logistic regressions were used to identify the association of sex with post-COVID related-symptoms. A total of 1969 individuals (age: 61, SD: 16 years, 46.4% women) were assessed 8.4 months after discharge. No overall significant sex differences in COVID-19 onset symptoms at hospital admission were found. Post-COVID symptoms were present in up to 60% of hospitalized COVID-19 survivors eight months after the infection. The number of post-COVID symptoms was 2.25 for females and 1.5 for males. After adjusting by all variables, female sex was associated with ≥3 post-COVID symptoms (adj OR 2.54, 95%CI 1.671–3.865, p < 0.001), the presence of post-COVID fatigue (adj OR 1.514, 95%CI 1.040–2.205), dyspnea (rest: adj OR 1.428, 95%CI 1.081–1.886, exertion: adj OR 1.409, 95%CI 1.109–1.791), pain (adj OR 1.349, 95%CI 1.059–1.720), hair loss (adj OR 4.529, 95%CI 2.784–7.368), ocular problems (adj OR 1.981, 95%CI 1.185–3.312), depressive levels (adj OR 1.606, 95%CI 1.002–2.572) and worse sleep quality (adj OR 1.634, 95%CI 1.097–2.434). Female sex was a risk factor for the development of some long-term post-COVID symptoms including mood disorders. Healthcare systems should consider sex differences in the management of long haulers.
Collections