Publication:
Carisoprodol Single and Multiple Dose PK-PD. Part II: Pharmacodynamics Evaluation Method for Central Muscle Relaxants. Double-Blind Placebo-Controlled Clinical Trial in Healthy Volunteers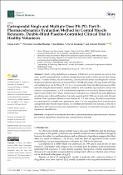 Advisors (or tutors)
Editors
Abstract
Centrally acting skeletal muscle relaxants (CMR) such as carisoprodol are used to treat acute, painful musculoskeletal conditions, though its precise mode of action has not been characterized. A double-blinded, placebo-controlled, randomized clinical trial was designed to evaluate the pharmacokinetics–pharmacodynamics (PKPD) of CMR after single (350 mg), double (700 mg), and multiple doses (up to 350 mg/8 h, 14 days) of carisoprodol. Muscular (Electromyogram–EMG, muscular strength dynamometry), central (sedation), and tolerability (psychomotor activity test, adverse events) parameters, as well as withdrawal symptoms, were evaluated. Thirteen healthy volunteers were enrolled. No evidence of direct muscle relaxation was evidenced, but some differences on sedation were evidenced throughout the study, suggesting that CMRs act, at least partly, through sedation. Most significant differences were detected at 1.5 h after dosing. The effect on psychomotor impairment was variable, most prominently after 1.5 h, too, suggesting that it is produced by carisoprodol rather than by meprobamate. No withdrawal symptoms were detected, so the risk of dependence following maximum doses and duration of treatment recommended, and under medical supervision, should be low.
Collections