Publication:
Política migratoria y securitización en la administración Trump (2017-2021).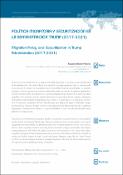 Authors
Advisors (or tutors)
Editors
Abstract
El proceso de securitización de las migraciones debe explicarse en un contexto general de crisis de la globalización y del orden liberal internacional. Son principalmente dos las visiones políticas actuales al respecto de la globalización y la movilidad: la posición globalista y la posición escéptica. En este escenario de crisis se está produciendo un auge de las políticas orientadas a la restricción de la libre circulación de las personas impulsadas por fuerzas de la derecha radical populista. Nos ocupamos en este estudio del proceso de securitización de la política migratoria de Estados Unidos durante la Administración Trump y, en particular, en las relaciones con México. Finalmente, analizamos el Pacto Mundial para una Migración Segura, Ordenada y Regular, firmado por Naciones Unidas en 2018, como alternativa de desecuritización de las políticas migratorias. Estudiamos los límites y las potencialidades de este acuerdo para la gobernanza global de las migraciones.
The process of securitization of migration should be explained in a general context of crisis of globalization and the international liberal order. There are mainly two main current political views regarding globalization and mobility: the globalist position and the skeptical position. In this crisis scenario, there is a boom in policies aimed at restricting the free movement of people promoted by radical rightwing populist forces. We deal in this study of the process of securitization of the United States migration policy during the Trump Administration and, in particular, the relations with Mexico. Finally, we analyze the Global Compact for Safe, Orderly and Regular Migration, signed by the United Nations in 2018, as a desecuritization alternative of migration policies. We study the limits and potential of this agreement for the global governance of migration.
Collections