Publication:
Stabilized convection in a ternary mixture with two Soret coefficients of opposite sign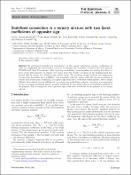 Advisors (or tutors)
Editors
Abstract
We performed ground-based experiments on the sample polystyrene–toluene–cyclohexane in order to complement the experimental activities in microgravity conditions related to the ESA projects DCMIX4 and Giant Fluctuations. After applying a stabilizing thermal gradient by heating from above a layer of the fluid mixture, we studied over many hours the density variations in the bidimensional horizontal field by means of a Shadowgraph optical setup. The resulting images evidence the appearance of convective instability after a diffusive time associated with the binary molecular solvent consisting of toluene and cyclohexane, confirming the negative sign of the Soret coefficient of this mixture. After a larger diffusive time related to mass diffusion of the polystyrene in the binary solvent, convection was suppressed by the increasing stabilizing density gradient originated by the Soret-induced concentration gradient of the polymer. This is compatible with a positive sign of the Soret coefficient of the polymer in the binary solvent.
Description
CRUE-CSIC (Acuerdos Transformativos 2022) "Acknowledgements: We acknowledge financial support from the CNES and from the E2S UPPA Hub Newpores and the Industrial Chair CO2ES supported by the Investissements d'Avenir French programme managed by ANR (ANR16IDEX0002). Work partially supported by the European Space Agency, CORA-MAP TechNES Contract No. 4000128933/19/NL/PG. Loreto García-Fernández is thankful to Comunidad de Madrid for the financial support of the postdoctoral researcher contract "Atracción de Talento Investigador (2019-T2/AMB-15912)". All the authors are really thankful to José María Ortiz de Zárate for the fruitful scientific discussion about the results of the experiments reported here. Unfortunately, he passed away before we started writing this paper." "Funding: Information Open Access funding provided thanks to the CRUE-CSIC agreement with Springer Nature"
Collections