Publication:
Numerical test of the replica-symmetric Hamiltonian for correlations of the critical state of spin glasses in a field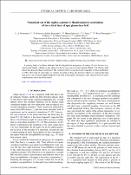 Advisors (or tutors)
Editors
Publisher
American Physical Society
Abstract
A growing body of evidence indicates that the sluggish low-temperature dynamics of glass formers (e.g., supercooled liquids, colloids, or spin glasses) is due to a growing correlation length. Which is the effective field theory that describes these correlations? The natural field theory was drastically simplified by Bray and Roberts in 1980. More than 40 years later, we confirm the tenets of Bray and Roberts's theory by studying the Ising spin glass in an externally applied magnetic field, both in four spatial dimensions (data obtained from the Janus collaboration) and on the Bethe lattice.
Description
©2022 American Physical Society The authors wish to thank the Janus Collaboration for allowing us to analyze their data. We would like also to thank E. Marinari for interesting discussions. The analysis of the Janus configurations was performed at the ICCAEx Supercomputer Center in Badajoz, and we thank its staff for their assistance. This work was supported by the European Research Council under the European Unions Horizon 2020 Research and Innovation Programme (Grant No. 694925, G.P.), by Ministerio de Economía y Competitividad, Agencia Estatal de Investigación, and Fondo Europeo de Desarrollo Regional(FEDER)(Spain and European Union) through Grants No. PID2020-112936GB-I00 and No. PGC2018-094684-B-C21, and by Junta de Extremadura (Spain) through Grants No. GRU18079 and No. IB20079 (partially funded by FEDER). I.G.A.P. was supported by MCIU (Spain) through FPU Grant No. FPU18/02665.
Collections