Publication:
Kinetic dominance and the wave function of the Universe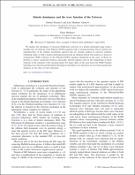 Advisors (or tutors)
Editors
Abstract
We analyze the emergence of classical inflationary universes in a kinetic-dominated stage using a suitable class of solutions of the Wheeler-DeWitt equation with a constant potential. These solutions are eigenfunctions of the inflaton momentum operator that are strongly peaked on classical solutions exhibiting either or both a kinetic-dominated period and an inflation period. Our analysis is based on semiclassical WKB solutions of the Wheeler-DeWitt equation interpreted in the sense of Borel (to perform a correct connection between classically allowed regions) and on the relationship of these solutions to the solutions of the classical model. For large values of the scale factor the WKB Vilenkin tunneling wave function and the Hartle-Hawking no-boundary wave functions are recovered as particular instances of our class of wave functions.
Description
© 2022 American Physical Society. The financial support of the Spanish Ministerio de Economia y Competitividad under Project No. PGC2018094898-B-I00 is gratefully acknowledged.
Collections