Publication:
La flora de la ciudad de Madrid como modelo para la integración de la conservación de la biodiversidad en el diseño urbanístico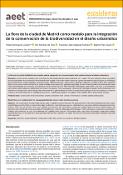 Advisors (or tutors)
Editors
Publisher
Asociación Española de Ecología Terrestre
Abstract
La flora de las ciudades no ha sido objeto de demasiada atención conservacionista en el pasado. En este trabajo se ofrece un análisis de las posibilidades de conservación de la biodiversidad vegetal en el medio urbano valorando algunas herramientas desarrolladas por la Biología de la Conservación: áreas protegidas, reintroducciones, hábitats artificiales, arboricultura y jardinería. Después, se utiliza la flora de la ciudad de Madrid como posible modelo de aplicación de las medidas conservacionistas generales expuestas. Se mencionan algunas de las extinciones locales mejor documentadas en la ciudad y se propone el uso de distintos tipos de microrreservas (estratégicas, potenciales o de novo, y de extrarradio) para intentar evitar extinciones adicionales en el futuro. Se concluye con una propuesta novedosa de estrategia de gestión de la biodiversidad consistente en el encaje biótico dentro del planeamiento urbanístico general de las ciudades. El encaje biótico persigue, entre otros objetivos, incorporar a técnicos en biodiversidad en las plantillas locales de las ciudades para alcanzar una gestión más completa de las áreas verdes urbanas.
The conservation of urban floras has not been of special concern in the past. We analyzed some of the most important tools that Conservation Biology currently offers to protect urban plant biodiversity: protected areas, species reintroductions, man-made habitats management and horticulture. Then, we use the flora of the city of Madrid as a model to test conservation measures usually employed in more natural settings. We document some of the best-known examples of local extinctions in the city. We proposed three types of micro-reserves for urban plant conservation: strategic micro-reserves, de novo micro-reserves and, outskirts micro-reserves. We conclude with a new urban biodiversity conservation strategy proposal that focus on the biotic fit in urban planning. Among other objectives, we stress the need to incorporate conservation biologists into public urban agencies.
Collections