Publication:
New light rings from multiple critical curves as observational signatures of black hole mimickers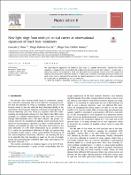 Advisors (or tutors)
Editors
Abstract
We argue that the appearance of additional light rings in a shadow observation - beyond the infinite sequence of exponentially demagnified self-similar rings foreseen in the Kerr solution - would make a compelling case for the existence of black hole mimickers having multiple critical curves. We support this claim by discussing three different scenarios of spherically symmetric wormhole geometries having two such critical curves, and explicitly work out the optical appearance of one such object when surrounded by an optically and geometrically thin accretion disk. (C) 2022 The Author(s). Published by Elsevier B.V.
Description
© 2022 The Author(s). DRG is funded by the Atraccion de Talento Investigadorprogramme of the Comunidad de Madrid (Spain) No. 2018-T1/TIC-10431, and acknowledges further support from the FCT projects No. PTDC/FIS-PAR/31938/2017 and PTDC/FIS-OUT/29048/2017. DS-CG is funded by the University of Valladolid (Spain), Ref. POSTDOC UVA20. This work is supported by the Ministerio de Ciencia e Innovacion (Spain) projects Nos. FIS2017-84440-C2-1-P, PID2019-108485GB-I00, PID2020-116567GB-C21, and PID2020-117301GA-I00, the project PROMETEO/2020/079 (Generalitat Valenciana), and the Edital 006/2018 PRONEX (FAPESQPB/CNPQ, Brazil, Grant 0015/2019). This article is based upon work from COST Action CA18108, supported by COST (European Cooperation in Science and Technology).
Collections