Publication:
Three times lucky: in dialogue with Rein Müllerson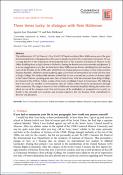 Advisors (or tutors)
Editors
Publisher
Cambridge University Press
Abstract
The publication in 2017 of Dawn of a New World (I B Tauris) confirmed Rein Müllerson as one of the great international lawyers of his generation. His career is deeply marked by the recent history of Europe. He was a young director of the Department of International Law of the Academy of Sciences of Moscow in the 1980s, doubling down as legal advisor to Gorbachev during the decisive years of perestroika and glasnost. It is not an exaggeration to say that, in those hectic days, Müllerson saw history unfolding from the machine room of the Kremlin. In the 1990s, after a brief but very intense period as secretary of state of the newborn Estonian Republic, Müllerson joined academia again as professor of international law at the LSE first, then at King's College. His inexhaustible stamina allowed him to wear a second hat as adviser on human rights to the United Nations, spending quite some time in Central Asia. After his retirement from King's College, he returned in the 2010s to Tallinn as dean of the newly established School of Governance. The following text is the result of a number of conversations, some in Tallinn, others forced by circumstances through video connection. The range of issues is as wide as Müllerson's interests, hopefully offering the reader views which are out of the common road. Not only because of the multiplicity of perspectives he is privy to, thanks to his extremely rich academic and personal trajectory, but also because of his commitment to diversity and pluralism.
Description
CRUE-CSIC (Acuerdos Transformativos 2022)
Collections