Publication:
Purging of deleterious burden in the endangered Iberian lynx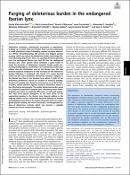 Advisors (or tutors)
Editors
Publisher
National Academy of Sciences
Abstract
Deleterious mutations continuously accumulate in populations, building up a burden that can threaten their survival, particularly in small populations when inbreeding exposes recessive deleterious effects. Notwithstanding, this process also triggers genetic purging, which can reduce the deleterious burden and mitigate fitness inbreeding depression. Here, we analyzed 20 whole genomes from the endangered Iberian lynx and 28 from the widespread Eurasian lynx, sister species which constitute a good model to study the dynamics of deleterious mutation burden under contrasting demographies, manifested in the consistently smaller population size and distribution area of the Iberian lynx. We also derived analytical predictions for the evolution of the deleterious burden following a bottleneck. We found 11% fewer derived alleles for the more putatively deleterious missense category in the Iberian lynx than in the Eurasian lynx, which, in light of our theoretical predictions, should be ascribed to historical purging. No signs of purging were found in centromeres nor in the X chromosome, where selection against recessive deleterious alleles is less affected by demography. The similar deleterious burden levels for conspecific populations despite their contrasting recent demographies also point to sustained differences in historical population sizes since species divergence as the main driver of the augmented purging in the Iberian lynx. Beyond adding to the ongoing debate on the relationship between deleterious burden and population size, and on the impact of genetic factors in endangered species viability, this work contributes a whole-genome catalog of deleterious variants, which may become a valuable resource for future conservation efforts.
Cuanto más pequeña es un a población, mayor es el riesgo de acumulación de mutaciones deletéreas a largo plazo, debido a la deriva genética. Sin embargo, los alelos deletéreos más o menos recesivos también se purgan más deprisa, debido a que aumenta la consanguinidad y quedan expuestos en homocigosis con más frecuencia. El análisis del genoma completo de 20 linces ibéricos (Lynx pardinus) y 28 linces euroasiáticos (Lynx lynx) ha revelado que los ejemplares de lince ibérico tienen un 29 % menos de mutaciones de pérdida de función y un 11 % menos de mutaciones que producen un cambio aminoacídico que sus parientes euroasiáticos, pertenecientes a una especie con censos históricos más elevados, aunque muestran una carga similar de mutaciones en categorías menos relacionadas con la eficacia biológica. Estos resultados son consistentes con nuestras predicciones analíticas, que incorporan información sobre la historia demográfica de estas especies, y evidencian la relevancia de la purga genética incluso sobre mutaciones de efecto tenue. La discusión hace énfasis en que este proceso reduce pero nunca anula por completo la depresión consanguínea de la eficacia derivada del incremento de la homocigosis, así como en la dificultad de cuantificar las consecuencias que estos cambios observados a nivel genómico pueden tener sobre dicha eficacia. Así mismo se discute cómo la consideración de la purga genética debe afectar la toma de decisiones al establecer las estrategias de conservación, tanto in situ como ex situ.
Collections