Publication:
Which Factors Favour Biodiversity in Iberian Dehesas?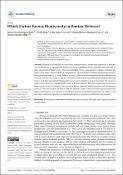 Advisors (or tutors)
Editors
Abstract
Dehesas or montados are man-made systems whose conservation interest as a Mediterranean landscape or agroforestry system has been highlighted in the scientific literature due to their high levels of biodiversity. The understanding of how management practices influence the biodiversity of the dehesa requires a comprehensive approach that considers the broad spectrum of biological components (i.e., fungi, lichens, vascular plants, macroinvertebrates, and vertebrates) that make the dehesa an ecosystem. We have reviewed around seventy publications compiled through Scopus and other specialized bibliographic sources not included in Scopus that study the impact of land use and land cover on the biodiversity of Iberian dehesas. The most significant results have been organized and summarized into a group of factors related to habitat structure and management practices. The conclusion to be drawn from the scientific studies is that not all biological components respond in the same way to land-cover and human practices, and the maintenance of a high overall diversity in dehesas depends on a complex understorey vegetation and habitat heterogeneity.
Collections