Publication:
Manufacture and mechanical-tribological assessment of diamond-reinforced Cu-based coatings for cutting/grinding tools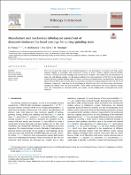 Advisors (or tutors)
Editors
Abstract
This work proposes the design of laser-textured patterns for the development of surfaces with high anchor densities capable of promoting solid mechanical bonding of highly abrasive sintered diamond/carbide-reinforced. Cu-based composite coatings with excellent wear resistance. The results show the development of dense and well-adhered coatings onto the patterns and how the higher nucleation of TiC/Fe3C on the diamond surfaces favours its greater bonding within the matrix, preventing its graphitization, and detachment. Reductions above 40% and 60% in the CoF were observed, under dry conditions, for coatings reinforced with 10 & 30 wt% of diamonds, respectively. Depending on the percentage of diamond used, the best glass/coating and alumina/coating wear volume ratios were around 20 and 6. These values would indicate that these composite coatings show high performance and therefore could be used to make tools for grinding and/or cutting glass and ceramic materials.
Description
CRUE-CSIC (Acuerdos Transformativos 2022)
Collections