Publication:
Valuation of ecosystem services: source of financing Mediterranean loss‑making forests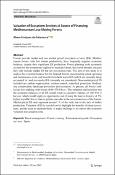 Authors
Advisors (or tutors)
Editors
Abstract
Forests provide market and non-market priced ecosystem services (ES). Mediterranean forests, with low timber productivity, have frequently negative economic balances, despite their signifcant ES production. Forest planning tools accurately account for the investments required to maintain forests, but not for benefts, because they only include market ES but not non-market ones. The aim of this study is to analyse the economic balance for fve Spanish forests, incorporating actual operating and maintenance costs, and benefts from both market ES (which are currently being accounted for) and non-market ES (currently not considered). Non-market priced ES included are carbon sequestration, erosion control, watershed protection, biodiversity conservation, landscape protection and recreation. At present, all forests studied are loss-making, with losses of 60–370 €/ha·yr. The valuation and inclusion into the economic balances of all ES would result in a positive balance of 130–938 €/ ha·year, which would imply an opportunity cost of using the land in forestry of 3%, higher in public forests than in private ones due to the recreational use of the former. Market-priced ES only represent around 1% of the total, due to the lack of timber production. Valuation of ES is a useful tool to highlight the benefts of forest ecosystems, and the need to maintain them. A major challenge is to convert this economic valuation into actual income.
Collections