Publication:
Magnetic Core-Shell Nanoparticles Using Molecularly Imprinted Polymers for Zearalenone Determination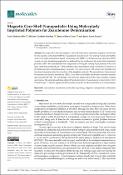 Advisors (or tutors)
Editors
Abstract
This paper describes the synthesis of novel molecularly imprinted magnetic nano-beads for the selective extraction (MISPE) of zearalenone mycotoxin in river and tap waters and further analysis by high-performance liquid chromatography (HPLC) with fluorescence detection (FLD). A semi-covalent imprinting approach was achieved for the synthesis of the molecularly imprinted polymers (MIP). The nanoparticles were prepared by covering the starting Fe3O4 material with a first layer of tetraethyl orthosilicate (TEOS) and then with a second layer using cyclododecyl 2-hydroxy-4-(3-triethoxysilylpropylcarbamoyloxy) benzoate. The last was used with a dual role, template and functional monomer after the extraction of the template molecule. The material was characterized by transmission electron microscopy (TEM), X-ray diffraction (XRD) and Fourier transform infrared spectroscopies (FT-IR). The solid phase extraction was optimized in all the steps: loading, washing and elution. The optimal conditions allowed the determination of zearalenone in trace levels of 12.5, 25 and 50 µg L−1 without significant differences between the fortified and found level concentrations.
Collections