Publication:
Biodetection Techniques for Quantification of Chemokines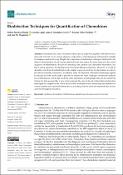 Advisors (or tutors)
Editors
Abstract
Chemokines are a class of cytokine whose special properties, together with their involvement and relevant role in various diseases, make them a restricted group of biomarkers suitable for diagnosis and monitoring. Despite their importance, biodetection techniques dedicated to the selective determination of one or more chemokines are very scarce. For some years now, the critical diagnosis of inflammatory diseases by detecting both cytokine and chemokine biomarkers, has had a strong impact on the development of multiple detection platforms. However, it would be desirable to implement methodologies with a higher degree of selectivity for chemokines, in order to provide more precise information. In addition, better development of biosensor technology applied to this specific field would make it possible to address the main challenges of detection methods for several diseases with a high incidence in the population, avoiding high costs and low sensitivity. Taking this into account, this review aims to present the state of the art of chemokine biodetection techniques and emphasize the role of these systems in the prevention, monitoring and treatment of various diseases associated with chemokines as a starting point for future developments that are also analyzed throughout the article.
Collections