Publication:
Effect of Combination Antibiotic Empirical Therapy on Mortality in Neutropenic Cancer Patients with Pseudomonas aeruginosa Pneumonia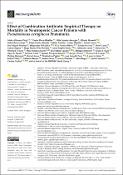 Advisors (or tutors)
Editors
Abstract
To assess the effect of combination antibiotic empirical therapy on 30-day case-fatality rate in neutropenic cancer patients with Pseudomonas aeruginosa (PA) bacteremic pneumonia. This was a multinational, retrospective cohort study of neutropenic onco-hematological patients with PA bloodstream infection (BSI) (2006–2018). The effect of appropriate empirical combination therapy, appropriate monotherapy and inappropriate empirical antibiotic therapy [IEAT] on 30-day case-fatality was assessed only in patients with PA bacteremic pneumonia. Among 1017 PA BSI episodes, pneumonia was the source of BSI in 294 (28.9%). Among those, 52 (17.7%) were caused by a multidrug-resistant (MDR) strain and 68 (23.1%) received IEAT, mainly when the infection was caused by an MDR strain [38/52 (73.1%) vs. 30/242 (12.4%); p < 0.001]. The 30-day case-fatality rate was higher in patients with PA bacteremic pneumonia than in those with PA BSI from other sources (55.1% vs. 31.4%; p < 0.001). IEAT was associated with increased 30-day case-fatality (aHR 1.44 [95%CI 1.01–2.03]; p = 0.042), whereas the use of appropriate combination empirical treatment was independently associated with improved survival (aHR 0.46 [95%CI 0.27–0.78]; p = 0.004). Appropriate empirical monotherapy was not associated with improved overall survival (aHR 1.25 [95%CI 0.76–2.05]; p = 0.39). Combination antibiotic empirical therapy should be administered promptly in febrile neutropenic patients with suspected pneumonia as the source of infection.
Collections