Publication:
Social environment improves the cytokine profile and lymphoproliferative response in chronologically old and prematurely aging mice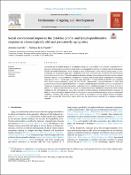 Advisors (or tutors)
Editors
Abstract
Among the age-associated changes in the immune system, the most evident is the decrease in proliferative responses of lymphocytes to mitogenic stimuli, which is accompanied by the loss of cytokine network homeostasis. Chronic low-grade inflammatory stress, termed as sterile inflammation, is also observed during aging. In chronologically and prematurely aging mice, cohabitation with adult animals for two months favored improvements in several immune functions. This study aimed to determine whether cohabitation could restore several cytokine networks, improve lymphoproliferative responses to mitogens, and diminish sterile inflammation. Chronologically old mice (76 ± 4 weeks) and prematurely aging mice (33 ± 4 weeks) (PAM and TH-HZ) were cohabited with adults (without premature aging) for two months. Subsequently, lymphoproliferation in both basal (unstimulated) conditions and in the presence of mitogenic stimuli lipopolysaccharide A (LPS) or concanavalin A (ConA) was analyzed in cultures of peritoneal leukocytes for 48 h. Cytokine secretions (IL-1β, TNF-α, IL-6, IL-10, and IL-17) in these cultures were also evaluated. The results showed that cohabitation restored the levels of these cytokines in old and prematurely aging mice and improved the subsequent lymphoproliferative responses. In addition, this social strategy diminished sterile inflammation and decreased inflammatory stress in unstimulated conditions. Therefore, this strategy seems to be capable of restoring the relevant immune function of lymphocytes and reducing the inflammatory stress, which are the improvements required for an adequate immune response.
Collections