Publication:
Nuevo trilobites asáfido con conservación de apéndices en la Biota de Fezouata (Ordovícico Inferior de Marruecos)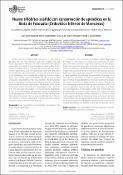 Advisors (or tutors)
Editors
Publisher
Sociedad Geológica de España
Abstract
Se presenta el tercer ejemplar del trilobites asáfido Megistaspis (Ekeraspis) cf. hammondi con conservación excepcional de apéndices, procedente del Fossil-Lagerstätte ordovícico de tipo Burgess Shale más importante del mundo, localizado en Marruecos. Los trilobites con apéndices o partes blandas se detectan en niveles del Tremadociense superior dentro de la Formación de Fezouata, pero son fósiles muy raros. El ejemplar estudiado conserva la antena derecha y nueve apéndices situados bajo el exoesqueleto, localizados en la parte derecha del cuerpo. Se trata principalmente de endópodos, pero al menos en dos apéndices se reconocen partes de los exópodos porque conservan sus largas lamelas. El primer endópodo parece corresponder al extremo distal del tercer apéndice cefálico, y el resto son apéndices torácicos. Las antenas observadas en ejemplares comerciales de la misma especie suelen estar manipuladas por los preparadores y son poco fiables. Además del asáfido estudiado, la conservación de partes blandas y apéndices se conoce en otras cuatro especies coetáneas, totalizando medio centenar de ejemplares publicados. Pero es muy posible que existan muchos más casos en los que los apéndices de aquellos ejemplares que conserven las antenas permanezcan en realidad ocultos bajo el caparazón dorsal.
A third specimen of Megistaspis (Ekeraspis) cf. hammondi is described from the most important Ordovician Burgess Shale-type Fossil-Lagerstätte in Morocco. The trilobite specimens with soft-part preservation are located in late Tremadocian levels within the Fezouata Formation, but are very rare. The studied specimen preserves the right antenna, and nine appendages under the right side of the exoskeleton, only evident when a break in the rock released part of the exoskeleton and revealed the underlying biramous appendages. These mostly consist of endopods, but also at least a couple of exopods, recognizable by their long lamellae. The first endopod seems to correspond to the distal tip of the third cephalic appendage, while the rest are thoracic appendages. The features of the preserved antenna indicate that most such appendages in other specimens from the same area are created or enhanced during preparation. Besides the studied asaphid, soft-part preservation of digestive tract and appendages are known from four coeval species, totalling about fifty published specimens. But it is quite possible that, like in the present specimen, biramous appendages may be preserved under the carapace of other specimens with antennae.
Collections