Publication:
PDF bias and flavor dependence in TMD distributions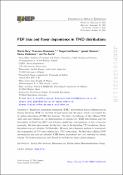 Advisors (or tutors)
Editors
Abstract
Transverse momentum dependent (TMD) distributions match collinear parton density functions (PDF) in the limit of small transverse distances, which is accounted for by global extractions of TMD distributions. We study the influence of the collinear PDF value and uncertainties on the determination of unpolarized TMD distributions and the description of Drell-Yan (DY) and Z-boson production measurements at low transverse momenta. We take into account, for the first time in fits including TMD evolution, flavordependent non-perturbative TMD profiles. We carry out a Bayesian analysis to incorporate the propagation of PDF uncertainties into TMD extractions. We find that collinear PDF uncertainties and non-perturbative TMD flavor dependence are both essential to obtain reliable TMD determinations, and should be included in future global analyses.
Description
© 2022 The Authors. This study was supported by Deutsche Forschungsgemeinschaft (DFG) through the research Unit FOR 2926, "Next Generation pQCD for Hadron Structure: Preparing for the EIC", project number 430915485. I.S. is supported by the Spanish Ministry grant PID2019106080GB-C21. This project has received funding from the European Union Horizon 2020 research and innovation program under grant agreement Num. 824093 (STRONG-2020). S.L.G. is supported by the Austrian Science Fund FWF under the Doctoral Program W1252-N27 Particles and Interactions.
Collections