Publication:
Una visión panorámica de los estudios antropológicos sobre Timor-Leste desde 2002: veinte años de antropología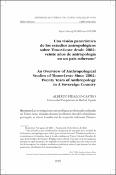 Authors
Advisors (or tutors)
Editors
Abstract
Las investigaciones antropológicas profesionales realizadas en Timor-Leste, iniciadas durante los últimos años del colonialismo portugués, se vieron frenadas tras la ocupación indonesia. Durante ese periodo se llevaron a cabo mayoritariamente estudios antropológicos promovidos por el propio Estado indonesio que tenían como objetivo último legitimar la ocupación. Con la restauración de la independencia y el retorno de la soberanía, se dio un resurgimiento de los estudios antropológicos, que en un primer momento se centraron en trabajos orientados al diseño de políticas de reconstrucción y desarrollo, así como de derechos humanos. Pasados los años, y después de que el interés por Timor-Leste como país reabierto a la investigación se ha ido atenuando, otros temas han surgido. En este artículo examino el panorama de las diferentes investigaciones realizadas en los últimos veinte años de antropología en el país.
Professional anthropological research in Timor-Leste, which started during the final years of Portuguese colonial rule, came to a halt after the Indonesian occupation. During this period, anthro- pological studies were mostly carried out under close supervision of the Indonesian state itself, mostly with the goal of ultimately legitimizing the occupation. With the restoration of independence and the return of sovereignty, there was a resurgence of anthropological studies which initially focused on work oriented to the design of reconstruction and development policies, as well as human rights. As the years have passed and with waning interest in Timor-Leste as a country reopened to research, other areas of study have emerged. This article surveys different research projects undertaken during the last twenty years of anthropological work in the country.
Collections