Publication:
Las Empresas B (B Corps) y la regulación de las sociedades con propósito (benefit corporations) en Derecho comparado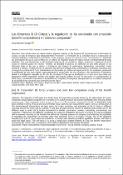 Authors
Advisors (or tutors)
Editors
Publisher
Facultad de Ciencias Económicas y Empresariales. Escuela de Estudios Cooperativos
Abstract
Este estudio tiene por objeto analizar algunos aspectos de las Empresas B (conocidas por la abreviatura B Corps), un tipo de empresas que estatutariamente reconocen la orientación de su actividad hacia la consecución de intereses distintos al estrictamente económico. Estas empresas integran el conocido como "movimiento B", impulsado por la fundación B Lab, la cual certifica con un sistema de medición propio el impacto social y medioambiental de estas entidades. Tras una introducción a este fenómeno empresarial, se expondrá el origen, evolución y expansión de las B Corps en distintos países del mundo. También, se abordará el proceso de obtención de este sello privado en las diferentes áreas en las que se divide la Evaluación del Impacto B: gobernanza, trabajadores, comunidad, medio ambiente y clientes. Posteriormente, se valorarán las diferentes obligaciones contractuales y societarias necesarias para conseguir la acreditación B Corp, deteniéndonos en las teorías que definen el objeto social de una sociedad y analizando la posibilidad de que estas regulen estatutariamente la consecución de fines distintos a los económicos. Finalmente, debido a la obligación impuesta por B Lab, las empresas B Corp que se certifiquen en un país en el que exista una legislación benefit corporation tendrán que adoptar este estatuto jurídico, lo cual nos dará paso a la contraposición de las B Corp, y las benefit corporations o sociedades con propósito; concluyendo este apartado con un análisis comparado de las legislaciones existentes que normativizan esta figura.
The objective of this paper is to break down B Corporations (usually known by the abbreviation B Corps), companies whose bylaws recognize the orientation of its activity towards the pursuit of interests other than the strictly economic one. These companies, which are part of the private "B movement" promoted by the B Lab foundation, have been certified in terms of social and environmental impact with its own measurement system. Once an introduction to this entrepreneurial phenomenon has been given, the origin, evolution, and expansion of the B Corps in different countries around the world will be outlined. It will also be addressed the process of obtaining this private seal in the different areas in which the B Impact Assessment is divided: governance, workers, community, environment, and customers. Furthermore, the different contractual and corporate obligations necessary to achieve B Corp accreditation will be assessed, focusing on the theories that define the corporate purpose of a company and analyzing the possibility of regulating the achievement of purposes other than economic ones on its bylaws. Finally, due to the obligation imposed by B Lab, B Corps which are certified in a country with benefit corporation legislation enacted, will have to adopt this legal status. This will lead us to make a comparative analysis between B Corp and benefit corporations; concluding this section with a comparison of the different legislations that regulate this figure.
Description
Nº Monográfico: Identidad cooperativa: puesta en valor de los elementos diferenciales de la economía cooperativa y solidaria
Citation
Abreu J. M. (2019) Curso de direito comercial. Vol. II. Das sociedades. 6.ª edição. Coimbra: Almedina. Alcalde Silva, J. (2018) Observaciones a un nuevo proyecto de ley que regula las empresas de beneficio e interés colectivo desde la experiencia comparada. Revista Chilena de Derecho Privado. Nº 31, pp. 383-426. DOI: 10.4067/S0718-80722016000100014. Alfaro Águila-Real, J. (2015) El interés social. Una historia natural de la empresa. Revista Economía Industrial. Nº 398, pp. 41-54. Alonso Ledesma, C. (1995) La exclusión del derecho de suscripción preferente en sociedades anónimas. Madrid: McGraw-Hill Interamericana de España. Alonso Ledesma, C. (2006) Diccionario de Derecho de sociedades. 1ª ed. Madrid: Iustel. Alonso Ledesma, C. (2017) Derecho de Sociedades. 3º ed. Barcelona: Atelier. Alonso Ureba, A. (1990) Presupuestos de la responsabilidad social de los administradores de una sociedad anónima. Revista de Derecho Mercantil. Nº 198, pp. 639-676. Andreadakis, S. (2012) Enlightened shareholder value: is it the new modus operandi for modern companies? En: Boubaker, S., Dang Nguyen, B., & Khuong Nguyen, D. Corporate governance: recent developments and new trends. Berlin: Springer, pp. 415-432. Blanco, F., Romero, A., Gómez, D., & Vizcaíno, A. (2018) Oportunidades: emprendimiento verde, social y tecnológico. Madrid: ESIC-España. Baque Jiménez, O., Pilacuán Bonete, L. M., & Hurtado Paspuel, J. F. (2017). Sistema de gestión integrado para empresas híbridas: Caso de las B-corps. Dominio de las ciencias. Vol. 3. Nº 2, pp. 148-188. DOI: 10.23857/dom.cien.pocaip.2017.3.2.148-188. Bonin G. (2003) Die Leitung der Aktiengesellschaft zwischen Shareholder Value und Stakeholder-Interessen. Baden: Nomos. Boyle, G. (2004) Renewable energy. 2º Edición. Oxford: Oxford University Press. Campos-i-Climent, V. (2016) La economía social y solidaria en el siglo XXI: un concepto en evolución. Cooperativas, B corporations y economía del bien común. Oikonomics. Nº 6, pp. 6-15. DOI: 10.7238/o.n6.1602. Campuzano Laguillo (2021) Crónica de Legislación Española. Anuario de derecho concursal. ISSN 1698-997X, Nº 54, pp. 185-216 Clark, R. C. (1986) Corporate Law. Boston: Little Brown. Clark, W. H., & Babson, E. K. (2012) How Benefit Corporations are Redefining the Purpose of Business Corporations. William Mitchell Law Review, Vol. 38 (2), pp. 818-851. Clark, W. H., & Vranka, L. (2013) White Paper: the need and rationale for the benefit corporation: Why it is the legal form that best addresses the needs of social entrepreneurs, investors, and, ultimately, the public? The Business Lawyer, Nº 68 (4), pp. 1083-1109. Comisión Europea (2015) A map of social enterprises and their eco-systems in Europe. Synthesis Report. Bruselas: Comisión Europea. Connolly, C., Mujica, J.D., & Noel, F.S. (2020) Movimiento legislativo de sociedades de beneficio e interés colectivo (B.I.C.) en América Latina: análisis, desafíos y propuestas para su avance. Sistema B, Academia B, Biblioteca Digital. Último acceso el 14 de julio del 2021. Disponible en: http://biblioteca.academiab.org/items/show/159. De la Cámara Álvarez, M. (1977) Estudios de Derecho Mercantil. Madrid: Derecho Reunidas. Decker, C. & Mellewigt, T. (2012) Business Exit and Strategic Change: Sticking to the Knitting or Striking a New Path? British Journal of Management. Vol II, Nº 23, pp 165–178. DOI: 10.1111/j.1467-8551.2010.00706. Díaz Moreno, A. (2015) Deber de lealtad y conflictos de intereses (observaciones al hilo del régimen de las operaciones vinculadas). Análisis GA&P, pp. 1-17. Duque Domínguez, J.F. (1957) Tutela de la minoría: impugnación de acuerdos lesivos (art. 67 L.S.A.). Valladolid: Consejo Superior de Investigaciones Científicas. Duque Domínguez, J.F. (1968) Societè, association et enterprise en droit spagnol. En: Verrucoli. Evoluction et perspectives du droit des sociétés a la lumière des diferentes experiences nationales. Milano: Giuffrè. Embid Irujo, J.M. (2004) La responsabilidad social corporativa ante el Derecho mercantil. Cuadernos de Derecho y Comercio. Nº 42, pp. 11- 42. Embid Irujo, J.M. (2006) Derecho, Mercado y Responsabilidad Social Corporativa. Papeles de economía española. Nº 108, pp. 63- 74. Embid Irujo, J.M. y Del Val Talens, P. (2016) La responsabilidad social corporativa y el Derecho de sociedades de capital: entre la regulación legislativa y el soft law. Derecho Privado. Madrid: Agencia Estatal Boletín Oficial del Estado. Esteban Velasco, G. (1982) El poder de decisión en las sociedades anónimas. Derecho Europeo y reforma del Derecho español. Madrid: Civitas. Esteban Velasco G. (2019) Buen gobierno, fin/interés social y responsabilidad social corporativa. Hacia un modelo de gobierno corporativo socialmente responsable. En: Roncero A., Sociedades cotizadas y transparencia en los mercados. Madrid: Aranzadi. Frederick, H.A. (2017) Benefit Corporation Law and Governance. Pursuing profit with purpose. Oakland: Berrett-Koehler Publishers. Fleischer, H. (2017) Corporate Social Responsibility. Vermessung eines Forschungsfeldes aus rechtlicher Sicht. Die Aktiengesellschaft, vol. 62. Nº 15, pp. 509-525. DOI:10.9785/ag-2017-1503. Fleischer, H. (2019) Benefit Corporations zwischen Gewinn- und Gemeinwohlorientierung: Eine rechtsvergleichende Skizze. En: Bergmann, A., Hoffmann-Becking, M., & Köln, U. N., Recht und Gesetz. Festschrift für Ulrich Seibert, Verlag Dr. Otto Schmidt, pp. 219-234. DOI: 10.9785/9783504386238-017. Garrigues, J. (1946) La capacidad para celebrar el contrato de sociedad mercantil. Revista de derecho mercantil. Nº 5, pp. 57-74. Garrigues, J. & Uría R. (1953) Comentario a la Ley de Sociedades Anónimas. Tomo II, Madrid: Joaquín Garrigues y Rodrigo Uría. Garrigues, J. (1976) Teoría general de las sociedades mercantiles. Revista de derecho mercantil. Nº 142, pp. 519-552. Girón Tena, J. (1954) Sobre los conceptos de sociedad en nuestro Derecho. Concepto del Derecho Mercantil en derecho español. Anuario de derecho civil. Vol. 7, Nº 4, pp. 971-1030. Girón Tena, J. (1976) Derecho de sociedades. Tomo I: Parte general Sociedades Colectivas y Comanditarias. Madrid: Benzal. Hayden, G. & Bodye, M.T. (2010) Shareholder democracy and the curious turn toward board primacy. Wm. & Mary L. Rev., pp. 2071–2121. Hernando Cebriá, L. (2015) Régimen de deberes y responsabilidad de los administradores en las sociedades de capital. Barcelona: Bosch. Hernando Cebriá, L. (2016) Beneficio compartido, derecho de sociedades y economía social: una perspectiva comparada. CIRIEC-España. Revista Jurídica. Nº 28, pp. 349-402. Hiez, D. (2017) Société d'impact sociétal: première reconnaissance de l'économie sociale et solidaire. Journal des Tribunaux Luxembourg, Larcier. Vol 4, pp. 123- 234. Hiez, D. (2020) L'économie sociale et solidaire au Luxembourg, forthcoming. Annales de droit luxembourgeois, Larcier. Vol 5, pp. 198- 243. Honeyman, R., & Tiffany J. (2019) The B Corp Handbook. How can we use business as a force for good? Canada: Berrett-Koehler Publisher. Jacquemet, G., & Henri, P. (2015) Corporate Social Responsibility, Sustainable Development et Corporate Governance: quelles corrélations? Revue suisse de droit des affaires et du marché financier (RSDA). Vol 3, pp. 170-178. Jaeger, P.J. (1964) L'interesse sociale. Milan: Giuffré. Jaeger, P.J. (2000) L'interesse sociale rivisato (quarannt anni dopo). Giurisprudenza commerciale. Vol. 27, pp. 795-812. Jeynes, J. (2000) Practical health and safety management for small businesses. Oxford: Butterworth-Heinemann. Kirti Sharma, A., & Marshall, S. (2020) Assessing Benefit Corporation Legislation as a Model for Reform of Corporations Law in Australia. Australia: Business & Law RMIT University of Melbourne. Liao, C. (2017) A Critical Canadian Perspective on the Benefit Corporation. Seattle U L Rev, Vol 4, pp. 683-716. Marquis, C. (2020) How the B Corp Movement is remarking capitalism. Better Business. New Haven: Yale University press. Marti Sánchez, M. (1989) El contrato de sociedad en el Derecho codificado español con especial referencia al Código civil. RDM. Nº 193-194, pp. 679-720. Molina, M. (2021) Libro verde de las empresas con propósito. B Lab Spain y Fundación Gabeiras Asociados. Madrid: La cultivada. Momberger, B. (2015) Social Entepreneurship – im Spannungsfeld zwischen Gesell-schafts- und Gemeinnützigkeitsrecht. Hamburg: Bucerius Law School Press. Murray, J.H. (2015) Corporate Forms of Social Enterprise: Comparing the State Statutes. Nashville: Belmont University. O'Callaghan Muñoz, X. (2012) Cumplimiento e incumplimiento del contrato. Madrid: Editorial Universitaria Ramón Areces. Paz-Ares Rodríguez, J.C. (1991) Ánimo de lucro y concepto de sociedad. En: Derecho mercantil de la Comunidad Económica Europea: estudios en homenaje a José Girón Tena. Consejo General de los Colegios Oficiales de Corredores de Comercio. Madrid: Cívitas. Paz-Ares Rodríguez, J.C. (1993) Artículo 1665 CC. En Paz-Ares Rodríguez, J.C. Comentario del Código Civil. Vol. 2. Madrid: Ministerio de Justicia. Paz-Ares Rodríguez, J.C. (2004) El gobierno corporativo como estrategia de creación de valor. Revista de Derecho Mercantil. Nº 251, pp. 7-60. Paz-Ares Rodríguez, J.C. (2015) Anatomía del deber de lealtad. Actualidad Jurídica Uría Menéndez, Nº 39, pp. 43-78. Pfammatter, V. & Peter, H. (2021) Sociétés hybrides, entreprises sociales, B-Corp: Le droit suisse est-il approprié? Schweizerische Zeitschrift für Wirtschafts- und Finanzmarktrecht/SZW. Nº. 3. Sánchez-Calero Guilarte, J. (2002) El interés social y los varios intereses presentes en la sociedad anónima cotizada. Revista de Derecho Mercantil. Nº 246, pp. 1653-1725. Sanz Bayón, P. (2019) El concepto del interés sociales en el derecho societario español: las teorías contractualistas e institucionalistas a debate. En: Lázaro González, I.E. & Serrano Molina, A. Estudios jurídicos en homenaje al profesor Don José María Castán Vázquez. Madrid: Editorial Reus. Schwarzbichler, M. (2018) Financial Steering Valuation, KPI Management and the Interaction with IFRS. Londres: Springer International Publishing. Secretaría General Iberoamericana (SGI), el Programa de Naciones Unidas para el Desarrollo (PNUD) y el Centro Internacional de Investigación para el Desarrollo (IDRC) de Canadá (2021) Las empresas con propósito y la regulación del cuarto sector en Iberoamérica. Resumen Ejecutivo Proyecto de Investigación Internacional - Ministerio de Asuntos exteriores, Unión Europea y Cooperación de España. Disponible en: https://www.segib.org/wp-content/uploads/Resumen-Ejecutivo-C.Final-1.pdf. Secretaría General Iberoamericana (SGI), el Programa de Naciones Unidas para el Desarrollo (PNUD) y el Centro Internacional de Investigación para el Desarrollo (IDRC) de Canadá (2021) Informe jurisdiccional de España: Las empresas con propósito y la regulación del cuarto sector en Iberoamérica. Disponible en: https://www.segib.org/wp-content/uploads/IJ-Espana-Final.pdf. Stella Ritcher, M. (2017) Società benefit e società non benefit. CXV, Nº 2. Padova: Piccin Nuova Libraria S.p.A. Suntae, K., Karlesky, M., Myers, C., & Schifeling, T. (2016) Why Companies Are Becoming B Corporations. Harvard Business Review, Vol 56, pp. 345-378. Uría, R. (1990) Derecho Mercantil. Madrid: Marcial Pons. Vargas Vasserot, C., Gadea Soler, E. & Sacristán Bergia, F. (2015) Derecho de las sociedades cooperativas. Introducción, constitución, estatuto del socio y órganos sociales. Madrid: La Ley. Vargas Vasserot, C. (2021) La empresa social. Concepto, regulación en Europa y propuestas de lege ferenda para el ordenamiento español. En: Vargas Vasserot, C. & Hernández Cáceres D. Responsabilidad, economía e innovación social corporativa. Madrid: Marcial Pons, Ediciones Jurídicas y Sociales. Ventura, L. (2016) Benefit corporation e circolazione di modelli: le «società benefit», un trapianto necessario? Contratto e impresa Vol. 32, Nº 4, pp. 1134-1167. Wilkinson, A., Redman, T., Snell, S. & Bacon, N. (2010) Field of human resource management. The SAGE handbook of human resource management. London: SAGE. Yunus, M. (2010) Building Social Business: The new kind of capitalism that serves humanity´s most pressing needs. New York: Public Affairs. Zavala, I. (2013) Las benefit corporations norteamericanas. Revista Deusto Estudios Cooperativos. Vol. 3, pp.75–105.
Collections