Publication:
Sirtuins and Hypoxia in EMT Control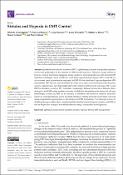 Advisors (or tutors)
Editors
Abstract
Epithelial–mesenchymal transition (EMT), a physiological process during embryogenesis, can become pathological in the presence of different driving forces. Reduced oxygen tension or hypoxia is one of these forces, triggering a large number of molecular pathways with aberrant EMT induction, resulting in cancer and fibrosis onset. Both hypoxia-induced factors, HIF-1α and HIF-2α, act as master transcription factors implicated in EMT. On the other hand, hypoxia-dependent HIFindependent EMT has also been described. Recently, a new class of seven proteins with deacylase activity, called sirtuins, have been implicated in the control of both hypoxia responses, HIF-1α and HIF-2α activation, as well as EMT induction. Intriguingly, different sirtuins have different effects on hypoxia and EMT, acting as either activators or inhibitors, depending on the tissue and cell type. Interestingly, sirtuins and HIF can be activated or inhibited with natural or synthetic molecules. Moreover, recent studies have shown that these natural or synthetic molecules can be better conveyed using nanoparticles, representing a valid strategy for EMT modulation. The following review, by detailing the aspects listed above, summarizes the interplay between hypoxia, sirtuins, and EMT, as well as the possible strategies to modulate them by using a nanoparticle-based approach.
Collections