Publication:
El proyecto IVRIPARC: metodología para estimar el impacto del cambio globalsobre el patrimonio geológico de los parques nacionales de Canarias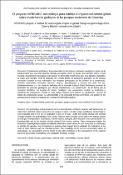 Advisors (or tutors)
Editors
Publisher
Sociedad Geológica de España.
Abstract
El patrimonio geológico y la geodiversidad de los parques nacionales contribuyen, junto con la biodiversidad, para que sean espacios naturales protegidos únicos en el país, pero también únicos a nivel mundial. El patrimonio geológico es de carácter no renovable, de tal forma que, si se pierden o degradan, lo hacen para siempre. Ante el escenario del cambio global, el patrimonio geológico de los parques nacionales canarios es muy vulnerable a los impactos rovocados por los cambios en la temperatura, avenidas torrenciales, tormentas extremas, sequías, desertificación y ascenso del nivel del mar, fundamentalmente, y a los impactos derivados de la actividad humana. Estos fenómenos provocan la activación de procesos geológicos que afectan directamente a su conservación, de tal forma que es necesario identificar los Lugares de Interés Geológico más amenazados, evaluar su incidencia y establecer los indicadores a escala de cada parque nacional para realizar su seguimiento. Conocer el estado de conservación actual, su vulnerabilidad y sus amenazas directas contribuirá a la gestión de los parques para el proceso de adaptación y mitigación del cambio global.
The geoheritage and geodiversity of the national parks contribute, together with biodiversity, to make them protected natural areas that are unique in Spain, but also unique worldwide. Geoheritage is non-renewable and if it is lost or degraded it does so forever. Under the Global Change and Climate Change scenario, the geoheritage of the Canary national parks is highly vulnerable to the impacts caused by changes in temperature, flash floods, extreme storms, droughts, desertification, fires and sea level rise, fundamentally and to the impacts directly derived from human activity. These phenomena trigger the activation of geological processes that directly affect their conservation, in such a way that it is necessary to identify the geosites most threatened, to evaluate their impact and to establish the indicators at the scale of each national park for monitoring them. The knowledge of the current conservation status of geoheritage, its vulnerability and its direct threats will contribute to the management of the national parks for the process of adaptation and mitigation of Global Change.
Collections