Publication:
El Reglamento (UE) de Mercados Digitales: Fundamentos, obligaciones de las plataformas y ejecución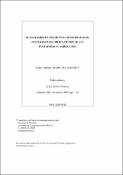 Authors
Advisors (or tutors)
Editors
Abstract
Para complementar los mecanismos previos de la política de competencia de la Unión y regular de manera más exigente y eficaz la actividad de los grandes prestadores de servicios digitales, el nuevo Reglamento de Mercados Digitales impone un régimen específico de obligaciones y de supervisión respecto de esos operadores. Aspectos esenciales de su contenido son la delimitación de los "servicios básicos de plataforma" sobre los que se proyecta, la designación como "guardián de acceso" en tanto que categoría determinante del sometimiento a este nuevo régimen, así como, especialmente, las obligaciones y prohibiciones que se les imponen. Se aborda, además, la concreción de su ámbito de aplicación territorial, la interacción del Reglamento con los instrumentos de la Unión preexistentes, el marco para su desarrollo, así como el régimen de supervisión y ejecución.
In order to supplement the traditional tools of the Union's competition policy and to regulate the activity of large digital service providers in a more demanding and effective manner, the new Digital Markets Act imposes a specific regime of obligations and supervision for these operators. Key aspects of its content are the delimitation of the 'core platform service' to which it refers, the designation of "gatekeepers" as a category determining the service providers covered and, in particular, the obligations an prohibitions imposed on them. The territorial scope of application, the framework for the future development of the Regulation and the enforcement and monitoring provisions are also addressed.
Collections