Publication:
Small mammal taphonomy and palaeoecological Holocene interpretations in the Andean piedmont (southern Mendoza province, Argentina)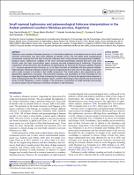 Advisors (or tutors)
Editors
Abstract
Salamanca cave (southern Mendoza province) is in the Andean piedmont, a transitional area in which small mammal communities may have been affected by climatic pulses. The site yields three archaeological components covering from the early to the late-Holocene with a mid-Holocene occupational and sedimentological hiatus. Taphonomic analyses of the small mammal assemblages indicate that barn owls (Tyto furcata) were the main accumulation agent, ensuring accurate palaeoecological inferences. Taxonomic composition of the site shows the dominance of Eligmodontia sp. followed by Thylamys pallidior, Phyllotis cf. P. vaccarum-pehuenche and Ctenomys sp., all of them indicative of shrubland and bare ground habitats. Palaeoclimatic inferences indicate a trend to warmer temperatures from the lower to the upper component with a slight increase in humidity in the middle component. This humid pulse is also supported by post-depositional taphonomic processes. The taxonomic structure and abundance of small mammals do not show deep changes amongst the three archaeological components, following the general trend observed in other archaeological sites from the Pampean region, southern Mendoza province and the arid and semi-arid zones of north Patagonia, in which changes in the taxonomic composition of small mammal communities are almost absent since Pleistocene–Holocene transition to late Holocene.
Collections