Publication:
PERMA-Profiler for the Evaluation of well-being: Adaptation and Validation in a Sample of University Students and Employees in the Mexican Educational Context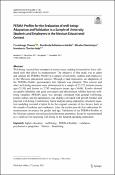 Advisors (or tutors)
Editors
Abstract
Well-being research has increased in recent years, making it essential to have validated tools that allow its measurement. The objective of this study was to adapt and validate the PERMA-Profiler in a sample of university students and employees in the Mexican educational context. Through a back-translation, an adaptation of the PERMA-Profiler questionnaire into Spanish was obtained. This version and other well-being measures were administered to a sample of 23,723 students (mean age = 21.50) and further to 2,783 employees (mean age = 36.08). Results showed acceptable reliability and good convergent and discriminant validity between well-being variables. PERMA score was strongly correlated with general well-being, positive affect, and life satisfaction, and slightly correlated with growth mindset and physical well-being. Confirmatory factor analysis using exploratory structural equation modeling revealed a better fit for the original structure of five factors, both in the sample of students and employees. Also, the results provide first indications for measurement invariance for gender and age. Validation of the PERMA-Profiler in the Mexican context showed good psychometric properties. It can be recommended as a valid tool for assessing well-being in the Spanish-speaking population.
Description
CRUE-CSIC (Acuerdos Transformativos 2022)
Collections