Publication:
Encadenamientos productivos en la industria automotriz latinoamericana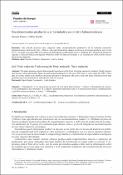 Authors
Advisors (or tutors)
Editors
Publisher
Instituto Complutense de Estudios Internacionales (ICEI)
Abstract
Este artículo presenta datos originales sobre encadenamientos productivos de la industria automotriz latinoamericana (América del Sur y México, más específicamente) basados en técnicas de insumo-producto para el año 2017 y, en algún caso, para 2007. Esos datos son utilizados para reflexionar sobre el problema de la integración productiva regional. El artículo finaliza con algunas reflexiones sobre los datos presentados y con comentarios sobre posibles nuevas líneas de investigación.
This paper presents original data on production chains of the Latin American automotive industry (South America and Mexico, more specifically) based on input-output techniques for the year 2017 and, in some cases, for 2007. These data are used to reflect on the problem of regional productive integration. The article ends with some reflections on the data presented and with comments on possible new lines of research.
Citation
Acemoglu, D., Akcigit, U., y Kerr, W. (2016): "Networks and the macroeconomy: An empirical exploration". Nber macroeconomics annual, 30(1), 273-335. Adewale, A. R. (2017): "Import substitution industrialization and economic growth–Evidence from the group of BRICS countries". Future Business Journal 3, nº 2: 138-158. Alcacer, J. y Oxley, J. "Learning by supplying": Strategic Management Journal 35, nº 2 (2014): 204-223. Botto, M. y Molinari, A. (2013): "Un análisis sobre las políticas de integración productiva en el Mercosur". Cuadernos de negociaciones internacionales e integración n.° 75. Brandt, L., Biesebroeck, J (2008): Capability building in China auto supply chain. University of Tronto. Castaño, F., y Piñero, F. J. (2016): "La política automotriz del MERCOSUR (PAM): evolución y actualidad. El eje Argentina-Brasil y su impacto sobre el bloque subregional". VIII Congreso de Relaciones Internacionales del Instituto de Relaciones Internacionales de la Universidad Nacional de La Plata (IRI-UNLP). La Plata, noviembre. CEPAL (2019): Matrices de Insumo Producto como herramienta de Políticas Comerciales e Industriales en América Latina y el Caribe y su relación con Asia Pacífico. Editado por CEPAL. Dietzenbacher, E. (2005): "More on multipliers". Journal of Regional Science, 45(2), 421-426. Dulcich, F., Otero, D. y Canzian, A.: (2020) "Trayectoria y situación actual de la cadena automotriz en la Argentina y el MERCOSUR.", Revista Ciclos en la Historia, la Economía y la Sociedad, no 54: 93-130. Durán Lima, J. E. y Banacloche, S. (2021): "Análisis económicos a partir de matrices de insumo-producto: definiciones, indicadores y aplicaciones para América Latina." Documentos de Proyectos (LC/TS.2021/177), Santiago de Chile: Comisión Económica para América Latina y el Caribe (CEPAL). Drahokoupil, J., Guga, S., Martišková, M., Zoltán Pogátsa, M. (2019): The future of employment in the car sector. Friedrich Ebert Stiftung Ed. Foerster, Andrew, Pierre-Daniel Sarte, and Mark Watson. 2011. "Sectoral versus Aggregate Shocks: A Structural Factor Analysis of Industrial Production." Journal of Political Economy 119:1–38. Garcia-Remigio, C. M., Cardenete, M. A., Campoy-Muñoz, P., y Venegas-Martínez, F. (2020). "Valoración del impacto de la industria automotriz en la economía mexicana: una aproximación mediante matrices de contabilidad social". El trimestre económico, 87(346), 437-461. Hiratuka, C., R. Sabbatini, M. Laplane y F. Sarti (2009): "Complementaridade Produtiva: Uma Visão Estratégica para o MERCOSUR", en A. López, y C. Alemany (coord.), Aportes para una Agenda Estratégica. Humphrey, J., Memedovic O. (2003): "The global automotive industry value chain: what prospects for upgrading by developing countries?." Sectorial studies series, United Nations Industrial Development Organization, Vienna. Leontief, W. (1928 [2017]): La Economía como flujo circular. México, D. F.: Universidad Nacional Autónoma de México. López, A., Niembro, A. y Ramos, D. (2014): "La competitividad de América Latina en el comercio de servicios basados en el conocimiento", Revista CEPAL Nº 113. Miller, R. y Blair, P (2009): Input-Output Analysis: Foundations and Extensions. Cambridge: Cambridge University Press. Molina, M., Fernández Massi, M., Guaita, N. y Bertin, P. (2021). La estructura productiva nacional: Un análisis de los encadenamientos y multiplicadores sobre la base de la matriz insumo-producto de 2015. Series de Documentos de Trabajo del CEP XXI, Documento de Trabajo n° 8. 2021. OIT (Organización Internacional del Trabajo) (2005): "Tendencias de la industria automotriz que afectan a los proveedores de componentes". Informe para el debate de la Reunión tripartita sobre el empleo, el diálogo social, los derechos en el trabajo y las relaciones laborales en la industria de la fabricación de material de transporte. Pisano, G. P. y Shih, W. C. (2009): "Restoring american competitiveness." Harvard Business Review 87, nº 7/8 (2009): 114-125. Pinazo, G. (2019): "Discusiones sobre industrialización, periferia y nueva geografía económica internacional". Cuadernos de Economía Crítica, 5(10), 17-41. Porter, M. (1990): La ventaja competitiva de las naciones. Ed. Javier Vergara. Buenos Aires. PWC (2016): Connected car report 2016: Opportunities, risk, and turmoil on the road to autonomous vehicles. Documento de Trabajo de Fundación Strategy&. Consultado en https://www.pwc.es/es/publicaciones/automocion/assets/connected-car-report-2016.pdf Sourrouille, J. L: (1980). El complejo automotor en Argentina. Editorial Nueva Imagen. Argentina. Stumpo, G. (1996): "Encadenamientos, articulaciones y procesos de desarrollo industrial". Serie de Documentos sobre Desarrollo Productivo n° 36. Comisión Económica para América Latina y el Caribe. Santiago de Chile. Sturgeon, T. J., Memedovic, O., Van Biesebroeck, J., y Gereffi, G. (2009): "Globalisation of the automotive industry: main features and trends". International Journal of Technological Learning, Innovation and Development, n° 2, 7-24. Triador, D., Pinazo, G. (2021): "Reflexiones sobre la sostenibilidad de la industrialización por sustitución de importaciones en Argentina". en H-industri@: Revista de historia de la industria, los servicios y las empresas en América Latina, (28), 145-164. United Nations, UN. Handbook on Supply and Use Tables and Input-Output Tables with Extensions and Applications. New York: United Nations, Department of Economic and Social Affairs, 2018.
Collections