Publication:
Comparative Analysis of Xinhua News and European News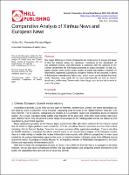 Authors
Advisors (or tutors)
Editors
Abstract
One major difference in China compared to the media sector in Europe and Spain is that the Chinese media has significant restrictions on the distribution of non-compliant content, and information is processed with the approval of the Chinese government for information presented to media consumers. In each European country, there exists a great variety of media that present a diversity of information, segmented according to the type of interest of the consumer, in terms of information, entertainment, leisure, etc., which in turn can be divided into local media. However, many media do not reach internationally nor have an international reach, while many Chinese media have a large reach and are able to write in several languages.
Citation
References AEEPP. (2017). Xinhua, the world's leading news agency, is a new member of the AEEPP.2019, from AEEPP Website: https://www.aeepp.com/noticia/2940/noticias-aeepp/xinhua-la-principal-agencia-de-noticias-del-mundo-nuevo-mie mbro-de-la-aeepp .html. AFP. (2020). About the AFP. 2020, by AFP Website: https://www.afp.com/es/sobre-la-afp. Al Jazeera Media Network. (2020). About us. 2020 by Al Jazeera Media Network Website: https://www.aljazeera.com/aboutus/. ANSA. (2020). ANSA First agency in Italy and one of the first in the world. 2020, from ANSA Website: https://www.ansa.it/corporate/it/info/nostri_numeri.html. AppInChinaTM. (2018). Top 20 Android App Stores in China. 2019, from App in China Website: https://cn.appinchina.co/market/. Artero, JP, & Moraes, R. (2008). Strategic options of the European news agencies: Reuters, France Presse and EFE. Associated Press. (2019). Press releases. 2020, from Associated Press Website: https://www.ap.org/media-center/. Azad, M., Changshou Deng, Hu Peng, Dong Xiwei. (2020). Impact of Social Media in Social Life in China. England: International Journal of New Technology and Research (IJNTR), Volume-6, Issue-1, January 2020 Pages 61-66. EFE Agency. (2020). WHO WE ARE? 2020, by EFE Website: https://www.agenciaefe.es/conozca-efe/.
Collections