Publication:
Seeking for resonances in unitarized one-loop graviton-graviton scattering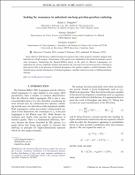 Advisors (or tutors)
Editors
Abstract
Some effective field theories exhibit dynamical resonances that, when properly included, mitigate their bad behavior at high energies. Unitarization of the partial wave amplitudes is the preferred method to unveil such resonances. Interpreting the Einstein-Hilbert theory in the spirit of effective Lagrangians, we implement the inverse amplitude method and unitarize the one-loop level graviton-graviton scattering in pure gravity. Due to the presence of infrared divergences, the analysis requires a careful treatment of the infrared region and the introduction of infrared regulators, carefully selected in order to fulfill perturbative unitarity.
Description
© 2023 American Physical Society The authors thank J. A. Oller for reading the manuscript and useful comments. This research is partly supported by the Ministerio de Ciencia e Innovacion under research Grants No. PID2019-108655 GB-I00, No. PID2019- 105614 GB-C21, and No. PID2021-124473NB-I00 (R. L. Delgado) and the "Unit of Excellence Maria de Maeztu 2020-2023" award to the Institute of Cosmos Sciences (CEX2019-000918-M), and the Grant No. 2017-SGR-929 from Generalitat de Catalunya. R. L. Delgado was also financially supported by the Ramon Areces Foundation postdoctoral fellowship, the Istituto Nazionale di Fisica Nucleare (INFN) postdoctoral Fellowship No. AAOO DGF-2019-0000329.
Collections