Publication:
DDC: a declarative debugger for C++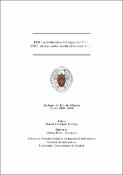 Authors
Advisors (or tutors)
Editors
Abstract
A declarative debugger for C++ is presented, called DDC. A declarative debugger receives as input an incorrect computation, builds a debugging tree based on the execution of the program and, after asking questions to an oracle (typically the user), points out a fragment of code that is the cause of the failure. We present the debugger's main features, such as three different navigation strategies, using test cases as oracles, support for nonterminating programs and a tree transformation.
Presentamos un depurador declarativo para C++, llamado DDC. Un depurador declarativo recibe como argumento de entrada una computación incorrecta, construye un árbol de depuración basado en la ejecución del programa y, después de preguntar a un oráculo (típicamente el usuario), indica el fragmento de código causante del fallo. Presentamos las principales características del depurador, tales como tres estrategias de navegación, el uso de casos de prueba como oráculo, capacidad de depurar programas que no terminan y una transformación de árbol.
Description
Trabajo Fin de Máster en Métodos Formales en Ingeniería Informática, Facultad de Informática UCM, Departamento de Sistemas Informáticos y Computación, Curso 2021/2022.