Publication:
Integración de Lua sobre Zephyr para dispositivos satelitales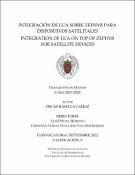 Authors
Advisors (or tutors)
Editors
Abstract
Satlink es una empresa tecnológica que desarrolla soluciones IoT para la industria pesquera con el fin de alcanzar una gestión sostenible y eficiente de los recursos oceánicos. Desde 2013, ha estado trabajando en una plataforma para el desarrollo de servicios en un dispositivo satelital en colaboración con el grupo de investigación ArTeCS ("Architecture and Technology of Computing Systems") de la UCM (Universidad Complutense de Madrid). Inicialmente, la plataforma fue diseñada en eCos, pero con el auge de IoT han surgido RTOS más orientados a esta tecnología. Este trabajo surge de la necesidad de portar el sistema de eCos a Zephyr, un RTOS libre más moderno. Los servicios implementados, que definen el comportamiento de los dispositivos de Satlink, son escritos en el lenguaje Lua, por lo que el primer paso de la portación consiste en integrar Lua sobre Zephyr. Incluir un lenguaje de scripting en un RTOS es cada vez más habitual, y Zephyr no proporciona una solución sencilla. Por ello, se consideró una buena oportunidad para desarrollar una integración consistente, formalizarla en un módulo y presentar una propuesta de publicación a Zephyr Project. Al tratarse de dispositivos satelitales, estudiar el hardware dedicado a este tipo de comunicaciones se convierte en un punto de interés para el desarrollo. Por esta razón, se investigaron algunas de las soluciones propuestas por Iridium (proveedor con el que trabaja Satlink) para ser utilizadas en sistemas embebidos.
Satlink is a technology company that develops IoT solutions for the fishing industry in order to achieve a sustainable and efficient management of ocean resources. Since 2013, it has been working on a platform for the development of services on a satellite device in collaboration with the ArTeCS ("Architecture and Technology of Computing Systems") research group at UCM (Complutense University of Madrid). Initially, the platform was designed in eCos, but with the rise of IoT, more IoT-oriented RTOS have emerged. This project arises from the need to port the eCos system to Zephyr, a more modern and open-source RTOS. The implemented services, which define the behaviour of Satlink devices, are written in the Lua language, so the first step of the porting is to integrate Lua on top of Zephyr. Including a scripting language in an RTOS is becoming more and more common, and Zephyr does not provide a simple solution. Therefore, it was considered a good opportunity to develop a consistent integration, formalise it in a module and submit a proposal for publication to the Zephyr Project.
Description
Trabajo de Fin de Máster en Internet de las Cosas, Facultad de Informática UCM, Departamento de Arquitectura de Computadores y Automática, Curso 2021/2022.