Publication:
Evaluación de herramientas de generación de conjuntos de tets para cobertura de caminos primarios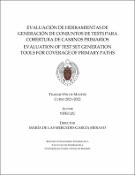 Authors
Advisors (or tutors)
Editors
Abstract
Testing es una parte integral del aseguramiento de la calidad del software. Hoy en día en el mercado ya existen muchas herramientas de generación de pruebas automatizadas que pueden generar automáticamente casos de prueba para el código que se está probando. Esas pruebas no siempre son perfectas, pero ha reducido bastante el trabajo para los probadores. La ''cobertura de prueba'' es una de las medidas de calidad más importante para las pruebas, las herramientas de prueba existentes se calculan principalmente como cobertura del código. En este proyecto, se implementó una herramienta web utilizando el framework Spring Boot, y se utilizó la tecnología Antlr4 para generar grafo de control de flujo mediante análisis de sintaxis del método en el código (JAVA) introducido por el usuario desde la página web, se registra los nodos y luego se calcula los requisitos de test del código de entrada. Para este proyecto, se eligieron EvoSuite y Diffblue, dos herramientas de pruebas automatizadas, para generar casos de prueba automatizados cada uno. Se analizó el conjunto de pruebas de estos archivos de test automatizados para obtener la cobertura del camino primario. Los resultados de estos cálculos se muestran uno al lado del otro en una página web, lo que permite al usuario ver hasta qué punto el código de los casos de prueba generados por las dos herramientas cumple los requisitos de la prueba, y seleccionar los casos de prueba que satisfacen sus necesidades.
Testing is an essential component of software quality assurance. There are already many automated test generation tools on the market that can generate test cases for the code being tested automatically. Those tests are not always perfect, but it has reduced the workload for the testers quite a bit. ''Test coverage'' is one of the most important quality measures for testing, existing testing tools are mainly calculated as code coverage. In this project, a web tool was implemented by using Spring Boot, and Antlr4 technology was used to generate a control flow graph by syntax analysis of the method in the code (JAVA) entered by the user from the web page. The nodes are registered and then the test requirements of the input code are calculated. For this project, EvoSuite and Diffblue, two automated testing tools, were chosen to generate automated test cases each. The test suite of these automated test files was analyzed to obtain the primary path coverage. The results of these calculations are displayed side-by-side on a web page, allowing the user to see to what extent the test case code generated by the two tools meets the test requirements and to select test cases that meet their needs.
Description
Trabajo de Fin de Master en Ingeniería Informática, Facultad de Informática UCM, Departamento de Sistemas Informáticos y Computación, Curso 2021/2022