Publication:
Educating the English: the role of universities in tackling hate speech and Islamaphobia in post-EU-Referendum Britain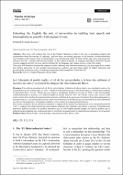 Authors
Advisors (or tutors)
Editors
Publisher
Instituto Complutense de Estudios Internacionales (ICEI)
Abstract
This essay will examine the role of the Higher Education system in the UK, in educating students and communities about the concept of 'othering', and how they can combat ignorance of the benefits of multiculturalism and Freedom of Movement. Since the Referendum over membership of the EU (June 2016), hate crime and speech has soared in the UK –verbally and on social media– as have physical attacks on migrants and ethnic minorities. Recent research suggests that this increase has been fuelled by the language and images used in certain UK media. This essay will therefore consider the impact of media 'othering' and what universities can, are, and might do to combat this rhetoric and action. It will consider current practices, policies, and posit future paths for Higher Education and governmental Education policy, in tackling xenophobia and Islamaphobia within the UK.
Este artículo examinará el rol de las universidades británicas al educar tanto a sus estudiantes como a las comunidades que las rodean sobre el "otro", usando el multiculturalismo y el Movimiento por la Libertad para combatir la ignorancia hacia "el otro". Desde que tuvo lugar el referéndum del Brexit en junio de 2016, se han incrementado considerablemente el discurso y los delitos basados en el odio hacia el "otro" en el Reino Unido, tanto a nivel verbal como a través de los medios de comunicación social, por no hablar de las agresiones de carácter físico hacia inmigrantes y minorías étnicas. Los estudios más recientes sobre este fenómeno social indican que este incremento ha sido claramente avivado por las imágenes y el lenguaje exhibidos en los medios de comunicación británicos. Por lo tanto, el objetivo de este artículo es considerar el impacto de los medios de comunicación en la conceptualización del "otro" y explorar qué están haciendo las universidades británicas para enfrentar esta retórica y acciones. Consideraremos prácticas y políticas actuales y las posibles alternativas que las universidades pueden adoptar, así como las políticas que el gobierno podría implantar para contrarrestar tanto la xenofobia en general como la islamofobia en particular a nivel nacional.
Collections