Publication:
Detector self-tomography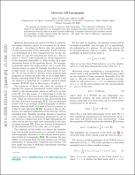 Authors
Advisors (or tutors)
Editors
Publisher
Optical Society of America
Abstract
We present an intuitive model of detector self-tomography. Two identical realizations of the detector are illuminated by an entangled state that connects the joint statistics in a way in which each detector sees the other as a kind of mirror reflection. A suitable analysis of the statistics reveals the possibility of fully characterizing the detector. We apply this idea to Bell-type experiments, revealing their nonclassical nature.
Description
© 2020 Optical Society of America. Spanish Ministerio de Economía y Competitividad Project No.FIS2016-75199-P
Collections