Publication:
Lightest flavor-singlet qqq baryons as witnesses to color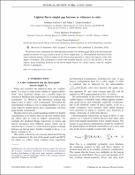 Advisors (or tutors)
Editors
Abstract
We present a new computation in a field-theoretical model of Coulomb-gauge QCD of the first radial and angular excitations of a qqq system in an SU(3) flavor-singlet state, Lambda(S). The traditional motivation for the study is that the absence of flavor singlets in the lowest-lying spectrum is a direct consequence of the color degree of freedom. [The calculation is tested with decuplet baryons Delta(1232) and Omega(1672).] We also analyze decay branching fractions of the flavor-singlet baryon for various masses with the simplest effective Lagrangians.
Description
© 2020 Amer Physical Soc. This project received funding from the European Union's Horizon 2020 research and innovation program under Grant Agreement No. 824093 (STRONG-2020), Grants No. MINECO:FPA2016-75654-C2-1-P, No. MICINN: PID2019-108655 GB-I00, No. PID2019-106080 GB-C21 (Spain), and Universidad Complutense de Madrid under research group 910309 and IPARCOS Institute.
Collections