Publication:
The earliest Greek editions and their cost in the Iberian Peninsula: evidence from the copies of the first Greek press (Venice, 1486)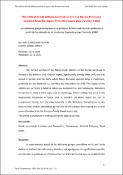 Authors
Advisors (or tutors)
Editors
Publisher
Universidad Complutense. Biblioteca Histórica
Abstract
The current survival of pre-Aldine Greek editions in the Iberian peninsula is limited to ten editions and thirty-six copies. Significantly, among these, only one was issued in Venice prior to 1495, when Aldus Manutius opened shop: a Psalterium, published by two Greek clerics, Laonikos and Alexandros, in 1486. Two copies of this edition are currently in Madrid, Biblioteca Complutense, and Salamanca, Biblioteca Universitaria, while a third copy, now in Cambridge, Trinity College was once in the Augustinian monastery of Santa Cruz in Coimbra. All three copies are rich in provenance history, but the copy currently in the Biblioteca Complutense is also likely to bear unique information to the cost of this edition, thus making it a crucial piece of evidence for the history of early Greek book trade.
La supervivencia actual de las ediciones griegas pre-aldinas en la península ibérica se limita a diez ediciones y treinta y seis ejemplares. Es significativo que sólo uno de ellos se publicara en Venecia antes de 1495, fecha en la que se estableció allí Aldo Manuzio: un Psalterium publicado por dos clérigos griegos, Laonikos y Alexandros, en 1486. Actualmente se conservan dos ejemplares de esta edición en Madrid, en la Biblioteca Complutense, y en Salamanca, en la Biblioteca Universitaria, mientras que un tercer ejemplar, actualmente en Cambridge, en el Trinity College, procede del monasterio agustino de Santa Cruz en Coimbra. La procedencia de cada uno de de los tres ejemplares es de gran interés, pero es probable que el que se encuentra actualmente en la Biblioteca Complutense contenga, además, información única sobre el precio de esta edición, por lo que se trata de una evidencia crucial para la historia del comercio de libros griegos primitivos.
Collections